The Western world is fixated upon progress, perfection, conformity and achievement, at the expense of enjoying ourselves, laughing at ourselves and taking time away to admire the infinite and transitory wonders of nature.
Buddhism is the font of an aesthetic, or rather another way of living, that the Japanese call "wabi-sabi." In Japanese, "wabi" connotes rustic simplicity, quietness or understated elegance. "Sabi" means beauty or serenity that comes with age.
There are seven principles for achieving wabi-sabi:
Fukinsei: asymmetry, irregularity; 
Kanso: simplicity; 
Koko: basic, weathered;
Shizen: natural, without pretense (i.e., authentic);
Yugen: subtle, profound grace, not obvious; 
Datsuzoku: unbounded by convention, free; 
Seijaku: tranquillity.
Wabi-sabi has influenced Japan's art and culture over centuries, including the Zen garden, Ikebana (art of floral arrangements), ceramics, Kokedama (the art of growing plants in a moss-covered ball of soil wrapped with twine) and the traditional tea ceremony—all these arts extol the delicate beauty of imperfection.
It is said that wabi-sabi originated with the tea masters in the 16th century, who reacted to the popularity of mass-produced, imported porcelain. The masters advocated local ceramics with their flaws and humble appearance. The more flawed and weathered, the more revered. Gradually, the concept was applied to other crafts, clothing and furnishings, the tea house itself and eventually the garden.
In life, wabi-sabi means to accept three essential realities: nothing lasts, nothing is complete and nothing is perfect. I have at last accepted that reality in my own life: my scars, my wrinkles, my grey hair, all of it.
Gardens are autobiography and art
---
I have adopted that ethos in the garden space that surrounds my domicile. My garden is where I spend so much time, where I find mindfulness, rest and peace. I appreciate a garden space that changes every moment of the day, so there is always something to see, to shake my senses and bring a tear of joy to my eyes.
Gardens are both autobiography and art, a collaboration with nature and the self. Mine reflects imperfection, oddity, relaxation and yes, disconnection, in the sense of individuality and expressiveness.
My garden reflects me, my wabi-sabi life as an outsider, an introvert, an exile, a storyteller, a social activist, a seeker of beauty in imperfection. What I admire is respect for nature, asymmetry, justice, irregularity, simplicity, wildness and austerity.
The wabi-sabi garden appreciates the forms and changes of the natural landscape. A garden based around wabi-sabi incorporates natural and human-made elements in a way that allows the gardener to appreciate humble and imperfect forms.
The act of gardening in and of itself is an act of calming mindfulness. It reflects my philosophy of gardening or doing anything these days … do a little and do it often.
One way to incorporate wabi-sabi garden design is to choose plants and objects that will change over time, as the seasons change and the elements weather them. Adding plants that provide natural textures in different seasons, like a tree with textured or peeling bark, is a great way to do this. Other ideas include allowing plants to go to seed and display their seed pods during the fall and winter, and letting dry, fallen leaves remain on the ground.
Old human-made objects exude beauty
---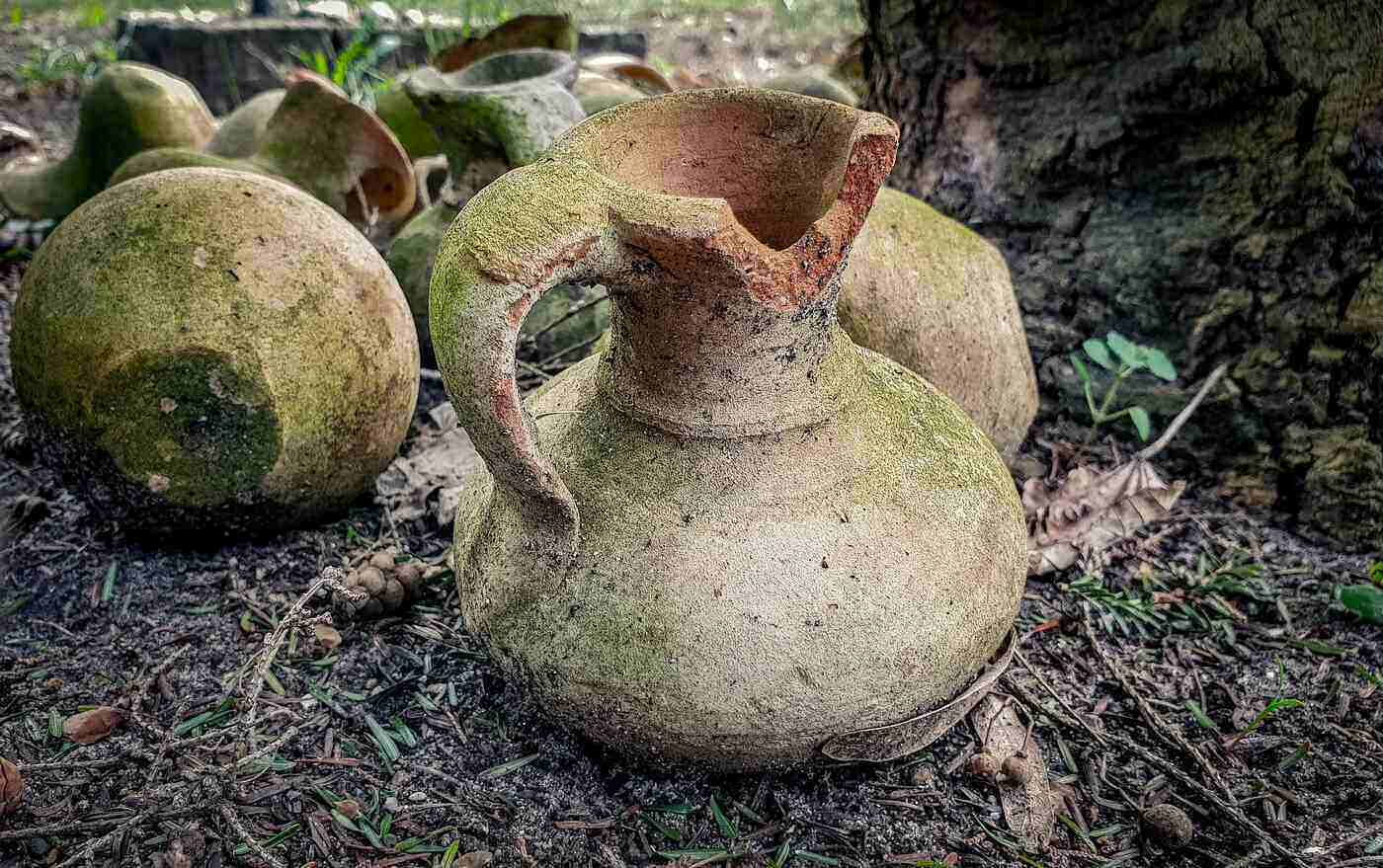 My wabi-sabi garden imitates natural environments in a cared-for space. To explore natural changes in my garden, I plant perennials and self-seeding plants that will establish their own corners of the garden over the course of years. I place stones in locations that will not receive foot traffic, as in my desertscape with small cacti and succulents. I let moss and lichens grow over fences. Borders may be fuzzy; lines aren't necessarily straight.
In my vegetable growing space, I don't require a perfect shape or unblemished leaves. I let the natural balance of beneficial insects deal with the occasional pesty ones. I don't use toxic chemicals anywhere in my garden, one reason being that so many of my vegetables and fruit require pollinators like bees. I have no dead ecological space or feature that ignores drought, thus no lawn.
Repurposing old, human-made objects is another part of wabi-sabi ideas. For example, I have rusted trellises that climbers wind through, old stone carvings of hares and quails that the prior owner left, and weathered ceramic pots of various shapes and sizes, along with new features made from natural materials (pergola and arch, designed by a local craftsperson). Sometimes that old fence or tree inspires us by how it has withstood years of adversity to still perform its function, and still exude beauty.
Wabi-sabi is simply a means to garden and live with perhaps a bit less structure and a bit more grace. As Frances Hodgson Burnett said in her 1911 novel, The Secret Garden:
"If you really look. the whole world is a garden."
«RELATED READ» WABI-SABI: Finding beauty in imperfection, impermanence and simplicity»
---
image 1 AlbertoAgrela from Pixabay 2 Photo by Kristian Seedorff on Unsplash 3 Image by Achim Scholty from Pixabay